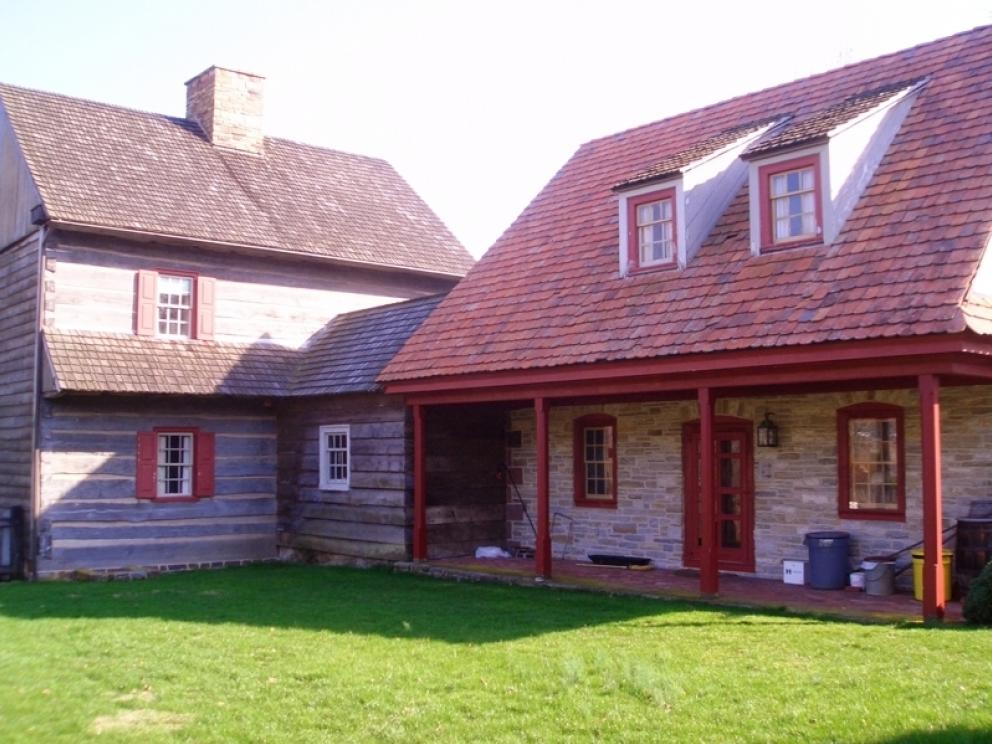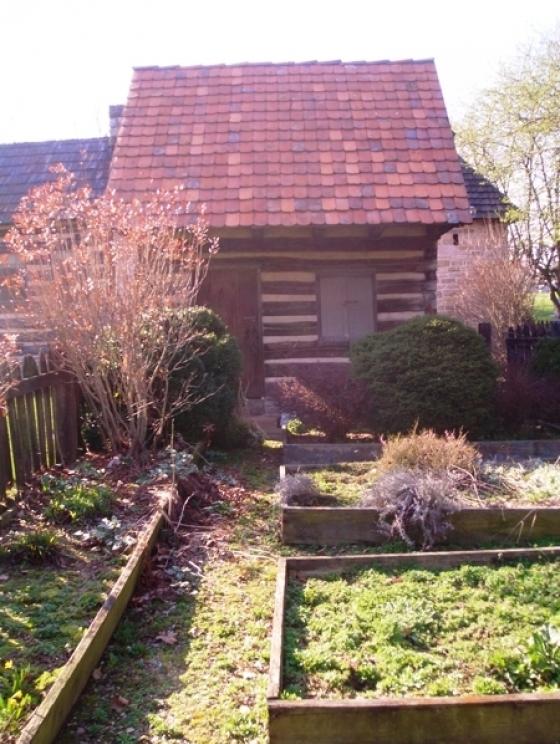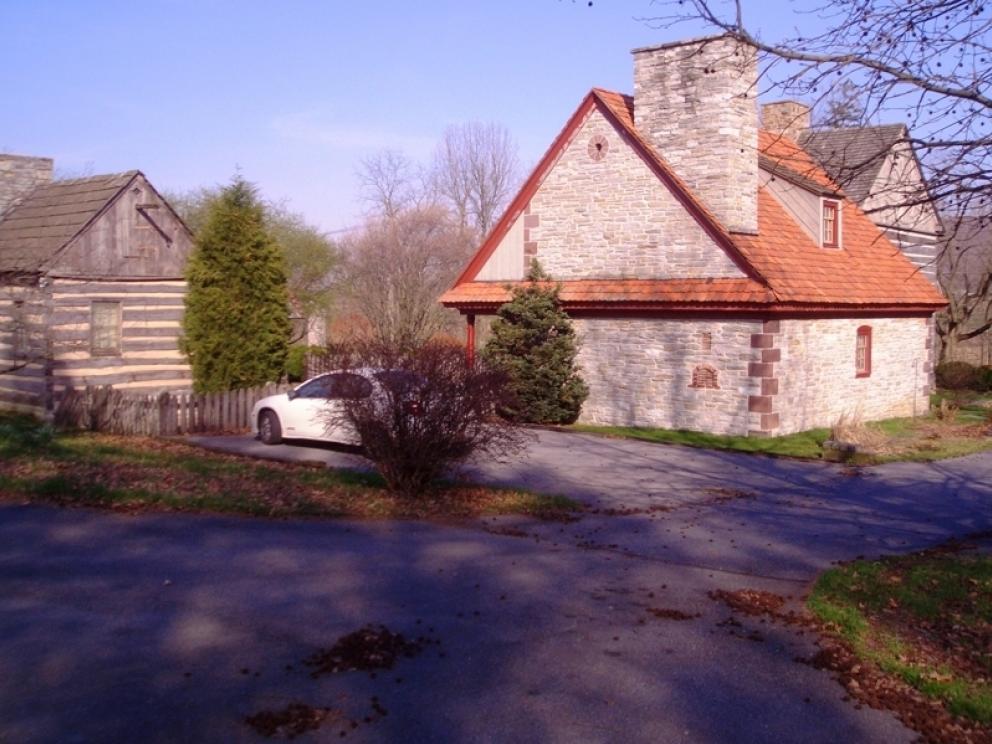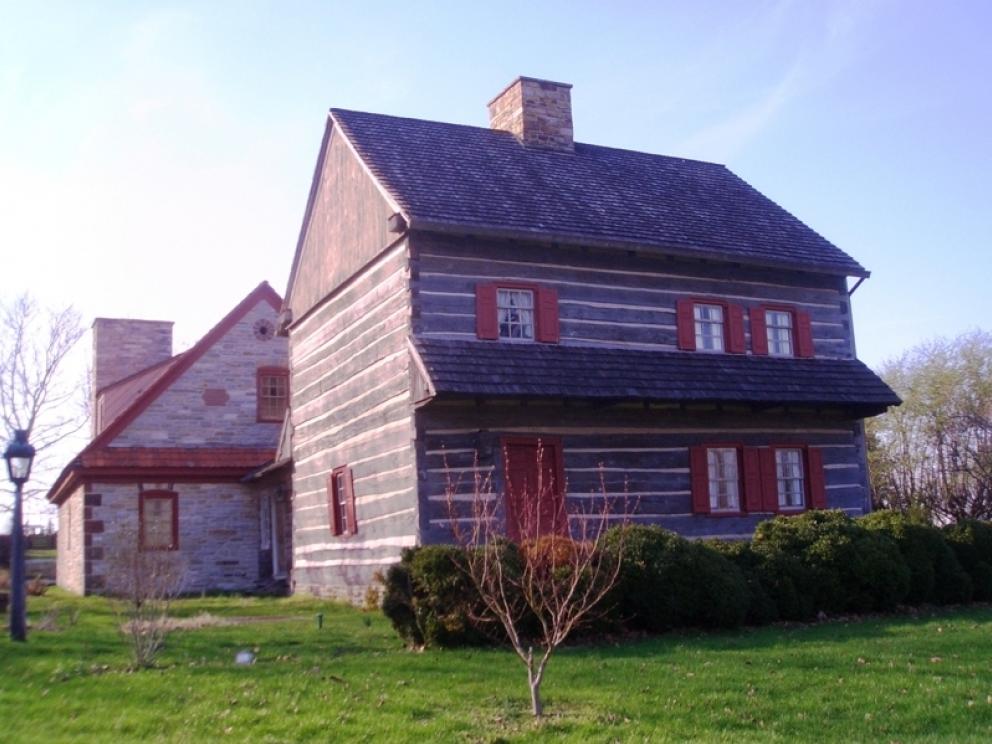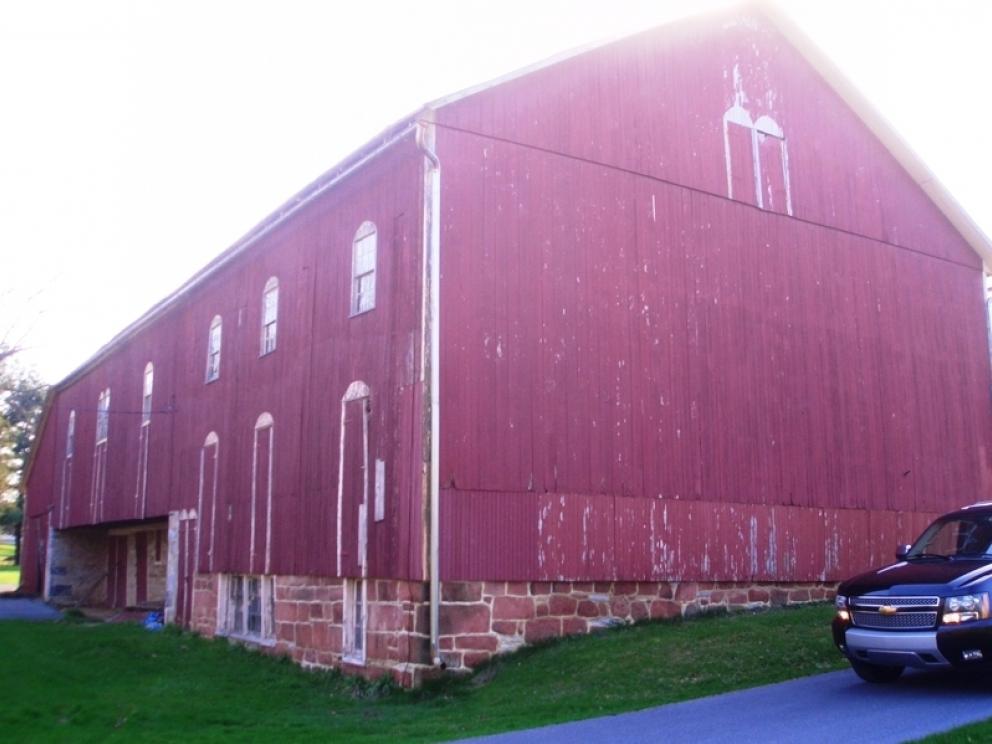 PLEASE CLICK ON THE "PHOTOS" TAB AT THE TOP, RIGHT OF THIS PAGE TO VIEW THE PHOTO GALLERY!!!
Home Tour: Sunday May 2nd @ 1PM
A truly one of a kind reconstructed colonial style log home. A unique mix of 18th century log and stone construction with modern conveniences. This log house (featured in Time-Life: American Country Tradition) and all of its stone foundations have been picked up and moved from York Springs, Adams County, PA to its current location! Features include original wide plank floors, 5 fireplaces, large barn with workshop and 3 outbuildings.
The log house is connected to a stone "summer kitchen" with separate entry way. A large walk-in fireplace(10 feet wide) with two dampers beautifies the kitchen with a Garland 6 burner commercial stainless steel stove with grill and griddle and 2 ovens. Looking up you will see a large summer beam from an 18th century factory running across the ceiling. Downstairs in the basement you will be amazed at the original stone walls and floor that were transported from Adams County. With an outside entrance this space offers great storage and work space.
The 3 outbuildings to this property are very unique and useful including a barn. The studio (formerly used as an art studio), composed of log and stone, can be used as a workshop, bedroom, etc. It comes with a another walk-in fireplace, loft and heat pump. The smokehouse is a stone construction with diagonol batten door. The log potting shed has an 18th century red clay tile roof, herb and perennial garden with raised beds and is enclosed with a custom designed fence and gates. The large barn measures 110' x 40' and has a ton of space for a workshop.
Location can not get any better! Mature trees and shrubbery surround the entire property. Schools, churches, transportation, recreation, shopping and other services are located in great proximity to this property! Just outside Schaefferstown in Lebanon County in the Village of Millbach. Minutes to Lancaster, Hershey, Harrisburg, Philadelphia and more! Don't miss this opportunity to not only own a piece of history, but own a truly one of a kind home.
Tax ID#: 242-389785366972
Deed Book: #347 Page: #683
Zoned: Residential

Lebanon county
Millbach Village
Millcreek Township
ELCO School District
Log Home
Foundation: Stone
Exterior Walls: Stone & Log
2 story
250 Years Old
1.98 acres (more/less)

Lot Size: 97' x 97' x 117' x 106'
Over 2,800 square feet of living space
3 Bedrooms
- Master bedroom (original fireplace, built-in linen cupboard, dressing room with sink and oak counters, chair rail, wall heater)

2.5 baths
Parlor with a Franklin Iron Fireplace
Dining Room with 8 foot walk-in Fireplace
Country Kitchen with Brick Paver Flooring, 10 foot wide walk-in Fireplace and Garland Stove as mentioned above.
Office
Laundry Room including an overhead loft and pantry
Full Basement with Outside Entrance
Large Barn (110' x 40') with Horse Stalls and Full Workshop
3 Outbuildings (studio, smokehouse, potting shed)

Stone Addition
Covered Porch
Central A/C
Oil Fired Forced Hot Air
5 Fireplaces
Well and Septic
Summer/Winter Hot Water
Tile and Wood Roof
Security system
Taxes approx: $5,242.00

PERSONAL PROPERTY:
CARS:
- Euro Swift SC93 (Formula Ford)
Last run in the 2008 SCCA Nationals
Has 2 additional noses and four complete sets of new wheels and tires including rains
A plethora of spare parts include 3 complete suspensions, 6 front and 6 rear sway bars, 8 sets of springs, additional carburators, manifolds, exhaust systems and misc. spare parts.
- 1955 Ford F100 Custom Cab
Never damaged, un-rusted, All original
Endgate has been replaced but does retain original endgate.
Newly painted, extra front bumper
150 miles on existing engine.
300 HP '57 Ford Thunderbird Engine prepared by Barry Ober
15" wheels with new tires (has original 16" wheels)
68,000 original miles
Original engine has been rebuilt and has not been driven
3rd Stock Engine available for spare parts.
Numerous Spare Parts for Truck
Existing Transmission has been rebuilt with a spare transmission
Extra intake manifold, extra clutches and more.
- 1941 Ford Superdelux Business Coupe
Never rusted and never damaged
80,000 original miles
New engine installed in 1962. Since then only driven 10,000 miles
A new set of tires with original 16" wheels
- 1964 Citroen 2CV
All original
63,000 KM
GUNS:
- U.S. Springfield Model #1873, 45-70 trap door (original and complete, excellent condition)
- Remington light, bench rest rifle 2 oz. trigger (New In Box)
- (2) COLT model .08's (1918 - retains some of original bluing, excellent condition, original color case hardening preserved)
(1932 - gun retains 99% of original bluing, 100% of original color case hardening, near new condition)
- Smith & Wesson; Model 60; 38 caliber (Manufactured 1973 w/ original box)
- Smith & Wesson; Model 36 Chief Special (Manufactured 1968, orig. and never fired, New In Box)
- .454 Cassul 10' barrel with all options including trigger job
- COLT Model .357 (Manufactured 1961, never fired and with box, New in Box)
- Les Bear .45 Monolith - New In Box, Never fired
- Benelli Super Black Eagle 12-gauge shotgun (2.75" & 3" slug) with scope - New in Box
- .35 Remington - Model 141 - Retains 99% of original bluing, 100% of original color case hardening, 99% of original stock finish remains.
- .22 Remington - 511X with a 4 Power Browning Scope
- Custom Made .270 Winchester - Hand made by Glen Morovits (Sturgis, SD) - Perfect Rust Blue, French Walnut Wood, Butt Plate and Grip Cap are Skeleton Design. Gun is available with Hand Dyes
- Belgium Browning A5 .20 gauge Magnum 26' Barrel - 100% of the original bluing, 99% of the stock finish.
- Winchester .03 (Manufactured in 1912 with original tang sight)
- Winchester .03 Manufactured within the first 6 months of production in 1903 (no safety with bronze firing pin) - Overall Collectors Condition
- Winchester .03 Manufactured in 1904 with flip-up tang sight - Authenticated by the Cody Museum with paperwork included with the firearm
- Winchester 1873 Highwall: Re-barreled in .222 Super Caliber, gun has been fired less than 30 times, Retains all of the original wood and metal, it HAS been recolor case hardened.
- Winchester Model 61 - .22 magnum pump - rifle appears to be new without box.
- Winchester Model #62A - .22 Short & Long. Manufactured in 1947 (excellent overall condition) 100% of blue and stock finish
- Winchester Model 12 featherweight; 12 gauge, 30 inch barrel- New in Box - Never assembled orginal papers & box. Manufactured 1959
- Marlin 59A - Excellent condition, all of original blue and stock finish
Ammunition:
New ammunition and reloading supplies, rcb's, dies, etc. - 12 gauge AA (2) cases - 20 gauge AA (1) case - Misc. new 12,16, & 20 gauge ammo - 6 boxes of sabot slugs for 12 gauge - 1 case of Winchester shotgun powder - .454 Casull carbide dies- Hand dies for .270 - 4 bags of WADS for 20 gauge - Lead shot #8 (4 25lbs. bags) - New ammo for .454 Casull (4 boxes-300gr, 2 boxes-260gr, 2 boxes-240gr) - 1 bag of primer cup bushings - 4 boxes for .35 Remington - 2 boxes for .358 Remington - 2 boxes of 200gr for .348 - 1 box of 150gr for .30-.06 - 2 boxes for 30/30 - 2 boxes for .308 - 6 boxes of .22-.250 ammo - 1 box for .22 Hornet - 1 box for .222 Remington Mag (55gr) - 2 boxes for .270 (55gr) - 2 bricks (500 rounds) .22 automatic + 3 boxes (VERY RARE) - RARE ANTIQUE 250gr and 1 box of150gr .348 ammo - Misc. .270 bullets (130gr and 150gr) balistic tip.
OTHER:
- Dry sink
- Oak ladies desk
- Electric back table
- Maple drop-leaf table with lamp and shade

- Custom made Black Walnut, Windsor type chairs
1 Man's rocking chair
1 Woman's rocking chair
1 Writing arm chair
1 Standard Windsor chair
4 Windsor kitchen chairs

- Brass buckets and brass kettles
- Copper kettle
- Copper bucket
- Copper Boiling Bucket
- Andirons
- Copper tea pot
- Brass wash boiler
- Maple tables
- Drop leaf table
- Candle mold
- Windsor type backed settee
- Magazine rack
- Washboard
- 3-tier corner shelf
- Iron plant stand
- White Sewing Machine with cast iron head (excellent condition including solid maple cabinet with drawers and chair)

- Jug
- Butcher items
- Cast iron scale
- Betty lamp
- 3 electric heaters
- Hoyt 45 pound draw weight bow and arrow with case
- Railroad spittoons
- Wooden magazine bucket
- Spinning wheel
- Maple drop-leaf table
- Original Remington wildlife print
-Original Teddy Roosevelt print
- 2 Bear mounts
- Bobcat mount

- Planter
- 4 Maple dressers
- Antique Walnut dresser circa 1875
- Brass spittoon
- Sony TV

- 1952 Ford 8-N tractor (new starter, clutch and fly wheel, one owner tractor with some original sales documents) Metal is in original, un-dented, un-rusted condition.
- 1941 Ford 9-N tractor - Metal is in original condition, some minor damage to the right hood-lay.
- Porsche 356 parts - New and Used Porsche parts (cranks, flywheels, carburators, tin-wear, over $100,000 worth of parts)
- Porter Cable 175 PSI Air Compressor - Brand New - Never Used
- Engine hoist
- 1996 Dodge Ram front, rear bumpers and grill
- Metal lathe with lathe tools
- New Delta Wood Lathe
- John Deere 1332 DDE Snowblower
- Simplicity snow blower
- Large Iron Antique Bell
- 2 Poplar pocket doors
- 5 Antique Chairs
- Electric Back Machine
- Troy-bilt power mower
- Craftsman power mower
- Misc. racing go-kart parts and engines (stands, covers, wheels, tires)
- 1972 GMC truck short block with 4-bolt mains
- 1951 FORD flathead engine (complete with 40,000 miles)
- Pair of high compression, polished heads and bolts for assembly
- New polished intake manifold with carburator and linkage
- 2 new blueprinted Yamaha KT-100 in boxes
- SEROTTA T-MAX stretch tube mountain bike - New Never Ridden
- COLNAGO road bike Campagnolo 50th Anniversary groupo # 3XX with less than 100 miles - only 500 made
- Circular cast iron pump trough, no cracks and no breaks. 4" deep and 30" diameter. 4 legs with overflow spout
- Ornate cast iron boot scraper
- Boot scraper set in red stone
- Husqvarna 225M60 Hedge trimmer
- Echo shred & vac
- Stihl FS76
- Echo line trimmer GT200R
- Husqvarna 225HRU blower
- Homelite E200 edger
- Echo GT2101 line trimmer
- 2 go-kart work stands
- 1 go-kart