How to Sell a Home As-Is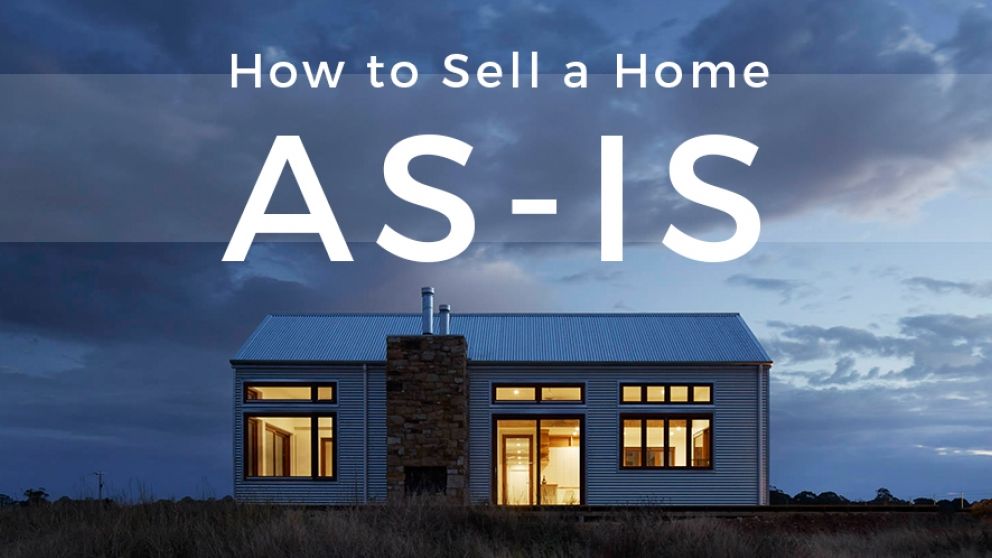 How to Sell a Home As-Is
Fixer-uppers can be a challenge for owners and real estate professionals to market. Many prospective home buyers are looking for a move-in ready home that will be reliable. Some people are turned off by the idea of having to invest time and money in renovations, and the fear of the unknown is enough to have them overlook any properties that are being sold as-is.
Despite the number of homeowners who disregard any fixer-uppers, there is a lot of potential in selling a home as-is. If you're looking to sell your home quickly, then listing it as-is could be the right option for you or your client. With the right marketing knowledge, you can find qualified buyers, market a fixer-upper at the right price and get it sold quickly and for more money.
What Is an As-Is Home Sale?
An as-is home is a property that isn't move-in ready by the standard market definition. As-is properties are also referred to as fixer-uppers. They may be in bad or poor condition, or appear run-down both inside and outside.
Specifically, as-is homes may have unfinished basements, outdated kitchens, incomplete renovations, torn down walls, ripped up flooring or an unfinished yard or landscape. Missing appliances and light fixtures are also common in homes being sold as-is. On the other hand, an as-is home may not have any noticeable unsightly elements, but rather the seller is simply trying to sell the property quickly.
Whatever the condition of an as-is home might be, the purpose is to sell the home without the seller facing any responsibilities to fix anything. While buyers still have a right to know ahead of time what they're being offered, the seller isn't required to remedy anything, and instead this obligation will fall on the buyer. This is possible under a transactional warning known as "buyer beware" or caveat emptor, whereby the buyer makes the purchase despite some known flaws in the home.
No Contingency Home Sales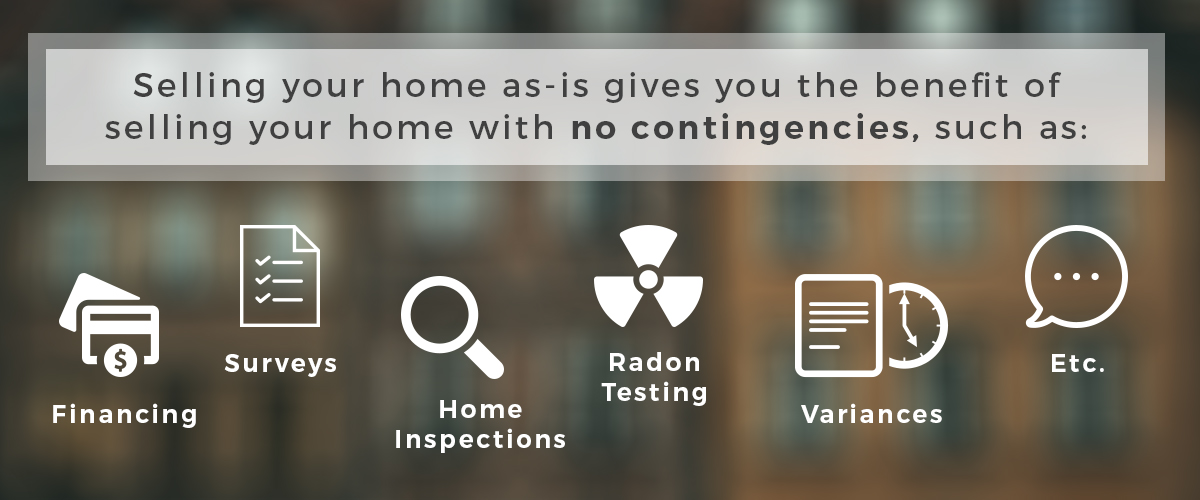 Selling your home as is also gives you the benefit of selling your home with no contingencies. This means that the sale of your home are not subject to:
Financing
Home Inspections
Surveys
Radon Testing
Variances
Etc.
Real estate sales can often fall through because of contingencies in the contract. With the auction method, you never have to worry about a sale not going through because all sales are considered "as-is" with no contingencies. If you've ever been part of a real estate transaction that has fallen through because of a contingency, you know how stressful and inconvenient that can be. Another benefit for selling your home as-is with the auction method.
Why Sell a Home As-Is?
Selling a home as-is can sometimes be the best or only option for many sellers. If a property will not be up to market standards when the owner needs to sell, they may choose to just sell the home in current condition. As-is home sales may be the best option for some sellers for a number of reasons, including:
No desire to put in the work of fixing up their home
Not having enough time to fix up their home
Unable to make the financial investment in properly fixing up a home
Wanting to avoid carrying costs
Needing to liquidate for financial reasons
Wanting to liquidate a family asset such as an estate sale
Needing to sell quickly due to sudden life events such as a health scare, divorce or a long-distance move
Whatever the reason for selling a home as-is, there are ways to ensure you can get your fixer-upper sold quickly and for the highest market value possible.
Risks of Investing in Home Renovations
While selling a home as-is may be a different and less traditional way of moving real estate, there is certainly a market for it. That's why it's important to consider marketing your home as a fixer-upper before you make any investments in home renovations or improvements.
In many situations, sellers invest in kitchen and bathroom upgrades, finishing off basements, opening up floor space or even replacing carpeting. Sellers may also invest a lot in professional landscaping that may be too extensive or require too much maintenance. Other invisible investments may include new plumbing, electrical or HVAC systems that buyers aren't willing to pay more for because they already expect these.
While some buyers appreciate certain home improvements, often the result is that these improvements aren't enough to justify a higher price tag. In the end, they cost the seller a lot in time and money and aren't guaranteed to pay off.
Tips for Marketing and Selling a Home As-Is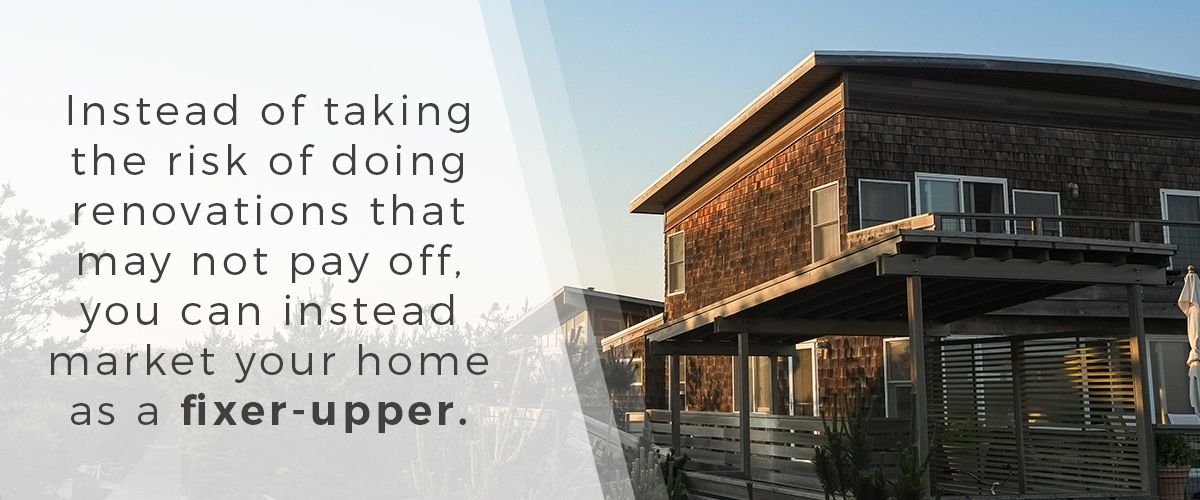 Instead of taking the risk of doing renovations that may not pay off, you can instead market your home as a fixer-upper. But, if you're selling or listing a home as-is, there are certain sales and marketing points to be aware of to ensure the home will sell.
Here are some tips for marketing and selling your home in "as-is" condition:
Focus on the Best Features: Despite the home not being up to market standards, there will still be certain features that are considered the home's best qualities. These may be unique design features, the land value, the location or even just the potential of the home.

For example, an excellent feature to highlight would be if the home has historic value. This can attract a demographic of buyers who are specifically seeking older homes with character and history.

Emphasize Value: In any marketing communications surrounding a fixer-upper, it's important to remain focused on value. Prospective homebuyers know that a fixer-upper will sell at a lower price point than newer or more modern homes on the market. But that doesn't mean you need to accept a lowball offer.

Instead, emphasize the home's investment potential by reminding buyers of the future sale opportunities after the home has been remodeled. Many homebuyers are looking for these creative ways of driving long- or short-term value by investing in fixer-uppers and eventually flipping the homes themselves.

Clean Up the Exterior: First impressions are critical in real estate. Even if your home has a lot of work that needs to be done, it's important to create a semblance of curb appeal. This doesn't require much or any investment in time or money. These could include simple actions like cleaning the windows and front entrance, power washing the exterior, removing debris or tackling any other messes throughout the property.

Do Some Yardwork: Having a neatly manicured yard can make a huge difference in the first impression your as-is home can make. Even if you don't have a green thumb or the time and money to invest in plants and shrubs, there are still simple fixes you can make. Be sure to rake up any leaves, pull weeds from garden beds, prune hedges and shrubs and mow the lawn.

Additionally, if there are any items being stored in your yard, move them inside, into a shed or around to the back of the home to keep up the appearance of the front yard.

Promote the Neighborhood: If your home's best asset is the location, be sure to focus on the value of the neighborhood. This may include local amenities, proximity to shopping centers, the quality of the nearby schools, as well as playgrounds, parks or anything that may appeal to families.

Feature the Lifestyle: When selling a house in poor condition, remember to accentuate the possible lifestyle features that may appeal to certain buyers. This may include gardening and landscaping hobbyists, carpenters, woodworkers or do-it-yourself enthusiasts.

If you are selling a home in poor condition that has been built on a large plot of land, this would be ideal for families who enjoy farming or growing their own food. Additionally, families with young children may love the idea of lots of space for activities, sports, pets and hosting events.

Determine an Appropriate Listing Price: Finding the right listing price when selling a fixer-upper is imperative. Many buyers will use the home's condition as a bargaining chip for negotiating a lower price. While you may be looking to sell your home quickly, you'll also be looking to get the most value possible. If you are uncertain of an appropriate listing price for selling a home as-is, then consult a real estate sales professional. Many real estate agents specialize in as-is home sales, especially in markets where these types of sales are common.

Prepare for a Home Inspection: Despite marketing a home in as-is condition, be prepared for it to undergo several inspections. Even though a buyer knows the home will be purchased in its current condition, they still want to have peace of mind and uncover potential safety issues that come with buying a rundown house.

If you can mentally prepare yourself for the fact that multiple inspections may occur, it can make the process of selling a fixer-upper a lot smoother.

Look at it From a Buyer's Perspective: For real estate agents listing a client's fixer-upper, it's important to put yourself in the shoes of potential buyers. Anticipate potential objections they may have about the home's condition and formulate a list of pros accordingly.

For sellers, it may be beneficial to work with your realtor or auctioneer to describe your own love for the home and the benefits you've gotten from it. Whether it's the land, location or any unique features. Think about what the prospective buyer will look for in a fixer-upper.

Target the Right Buyers: Buying a home as-is isn't for everyone. That's why it's important to aim your marketing efforts in the right direction. This starts with targeting the right buyers who will see value in buying a home that's in poor condition.


Ideal buyers for a rundown house include someone who is a handyperson and would rather live in a fixer-upper. The right buyers for a fixer-upper may also be people who have the budget to make expensive repairs and renovations. Additionally, there are many people, such as young couples or empty nesters, who are specifically looking for a fixer-upper because they have a unique or creative vision for a home renovation.
Benefits of Auction Sales for As-Is Homes
If you're looking to sell your property as-is and without spending any time or money on renovations or home improvements, then an auction is the right option and marketing platform for your home sale. Alternatively, if you've tried listing a house in as-is condition to no avail, then auctions are a great solution for agents and brokers as well.
Here are some of the top benefits of selling your as-is home at a real estate auction:
Market your unique property
Sell your home faster
Liquidate an estate property efficiently
Supports realtors and brokers
Get your property in front of motivated buyers
Eliminates the hassle of traditional home sales
Market Unique Properties: Unique properties that appeal to a niche market are great to showcase at an auction sale. Auctioneers use effective marketing techniques to properly position your home and drive up demand. Having access to these promotional tactics will help to ignite interest in your property within several different, yet strategically targeted, demographic areas.

Auctions are also the perfect platform for unique properties because it allows you to get outside your local market. It also helps you to get the most value for your property as determined by interested buyers. This is as opposed to a formal appraisal, as it can be difficult to define value when it comes to unique properties.

Sell Your Home Faster: If you're looking to close the sale of a home as fast as possible, then the home auction process is ideal. There are several reasons why a home may need to sell quickly. These may include financial difficulty, divorce, retirement or a sudden move to a distant location or another country. Auctions are geared towards moving properties quickly for the seller, so anyone facing these scenarios could benefit from this sales method.

Additionally, if a property is vacant, it makes it more desirable in terms of the ease of sale and transition for the buyer. For those who are facing financial struggles, selling a home faster is vital to reducing carrying costs, including taxes and maintenance.

Liquidate an Estate: For families that are dealing with the sale of an estate, it's important to get it done quickly and efficiently. Auctions provide a great solution to this real estate situation. That's because auctions can sell off the estate faster and without the inconvenience of appraisal. Ultimately, an auction will provide the best return on investment in both time and money when it comes to an estate sale.



Supports Realtors and Brokers: Real estate can be complex, and sometimes sales don't happen as realtors or brokers may have planned. When a home isn't selling in the traditional way due to unique market situations or unforeseen economic circumstances, real estate professionals may turn to auctions to benefit from their unique and effective explosion marketing tactics. Auctions get the property seen by more potential and targeted buyers and can sell faster at the price the market can best withstand.

Motivated Buyers: Prospective property buyers participate in auctions because they are prepared to buy. Many of them are already educated on the market, know what they want and are pre-qualified to buy. Additionally, sellers of as-is homes benefit from the competition among these buyers, which further helps them to get top-dollar.

For realtors and brokers, this list of pre-qualified buyers is an effective and convenient way of selling a home. This is as opposed to the more traditional prospecting activities of networking and neighborhood marketing. Additionally, realtors and brokers can market themselves and potentially all of their other listings to potential buyers.

Eliminates the Hassle of Traditional Home Sales: Though traditional sales are effective and of value for some homeowners, many people today are looking to get their home sold more efficiently. This means they don't want to face multiple disturbances of home showings and appointments. For some sellers, they may not like the idea of the back-and-forth of negotiations that can seem to drag out endlessly. Auctions eliminate both of these barriers by removing the seller completely from any negotiations.
Auctioning off an As-Is Home
If you or your client have an as-is property that needs to sell quickly and for top-dollar, consider working with a real estate auction service. Auction services have the specialized marketing tools and experience to place a fixer-upper in front of an audience of qualified buyers.
Contact Fortna Auctioneers & Marketing Group today to discuss the process of selling your real estate at an auction.
---