Auction Benefits for Realtors and Brokers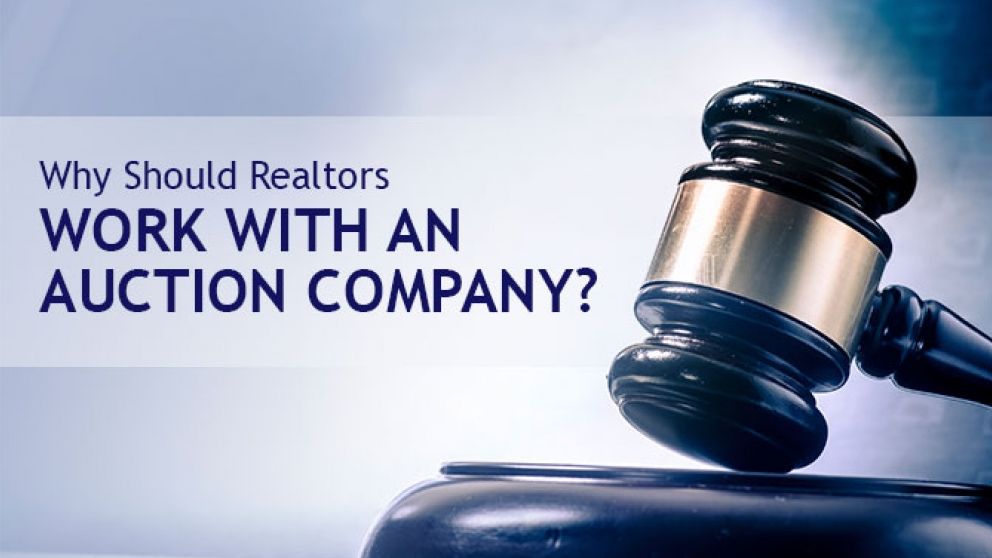 Why Should Realtors Work With an Auction Company?
You might be familiar with an auction as an accelerated approach to selling property to the public. You might also be aware that auctions attract attention, expanding your network of buyers while also raising sales prices through a competitive bidding process. But these are only a few of the many reasons why real estate auctions are the sales model of the future.
Auction Benefits for Brokers and Realtors
Why should realtors and brokers work with an auction company? Let's consider some of the many benefits of showing your listings at auction:
Broader market – Auction companies are skilled at marketing properties to potential buyers, ensuring a property stands out in the marketplace. Direct sales efforts help find qualified buyers at auctions, increasing the likelihood of a profitable sale. You can also include a number of properties in a single auction through combination bidding, minimizing the marketing expenses needed for separate auctions while further increasing your network of potential buyers. The increased visibility of the auction process can even attract interest in any of your non-auction properties.
Commissions – There are opportunities to earn profits by 1) referring a broker or agent to an auction company, 2) registering a buyer who purchases property at an auction or 3) listing the property that sells at an auction.
Eliminate uncertainty – An auction can eliminate pricing uncertainty by assuring the property will be sold at its fair market value.
Increased revenue and market share – Developing a niche market with successful auctions will help generate referrals and return business. This, of course, translates to increased revenue.
Reduced carrying costs – A longer sales process can involve considerable carrying costs, such as taxes and maintenance. By reducing the time frame of the process, your client can reduce the carrying costs of property maintenance and keep costs from chipping away at equity.
Reduced timeframe – Real estate auctions can significantly reduce the timeframe for the sale process. Once the client sets the date for the auction and terms for closing, the process becomes much faster. This can be extremely helpful if your client has been struggling to sell the property for a while or if a quick sale is needed. In short, the seller determines the timetable so their home can sell more quickly at auction.
Simplified negotiations – Because auctions set the terms and conditions of sale beforehand, there's no longer a need for negotiation. With an auction, you can set the time and date of the sale, the timeframe for closing and the amount of earnest money deposits. Since buyers review the terms of the sale and come prepared to buy on those terms, there's no seemingly endless back and forth.
No Contingencies – Auction sales are not subject to financing, home inspections, surveys, radon testing, variances, etc.
True market value – An auction will make it easier to sell your property at the true market value.
Urgency – The format of an auction — fixed date and competitive bidding — fosters a sense of urgency for buyers, forcing them to complete due diligence and line up finances by a particular deadline. If buyers don't want to miss out on an opportunity, they will make an effort to prepare. The alternative is a traditional process that can take months for everyone to firm up a mutual commitment.
Global Market Platform – An online auction method allows you to accept bids from anyone on the floor while simultaneously accepting bids from anyone anywhere in the world.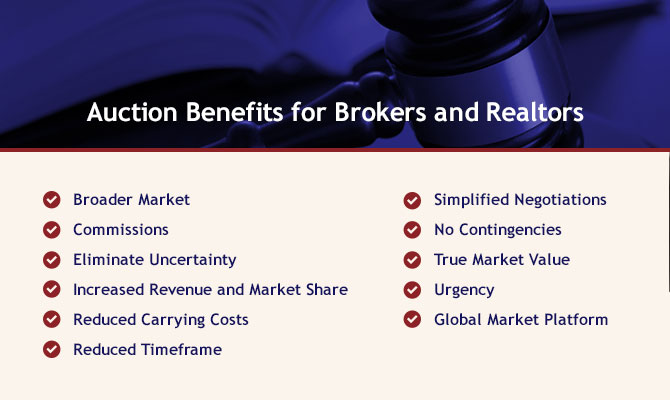 Additional benefits include the following:
Ability to sell property as is, without contingencies
Creating a list of ready, qualified buyers for sellers
Developing expertise to distinguish your services from the competition
Enhancing your image as a full-service professional
Offering current and prospective clients new selling and buying options
Possibility of forcing a sale prior to auction
An auction simplifies what could be a tough sell, eliminating the likelihood that a property will remain unsold for a lengthy amount of time. If you think added visibility, coupled with a speedy process, might benefit your listings and give you an edge over the competition, then you should give real estate auctions serious consideration.
Auction Benefits for Sellers
What benefits realtors and brokers also benefits sellers. Consider the following reasons for sellers to auction their property:
Accelerated sale
Aggressive marketing program to increase interest
Buyers prepared to buy
Competition among buyers, increasing auction price
Knowing when the property will sell
Less need to push for a sale
Many pre-qualified buyers ready to buy
No need for unscheduled showings
Reduction of carrying costs due to faster disposal of the property
Sell at true market value
Auction Benefits for Buyers
With auctions as one of the most effective methods of selling real estate, even buyers benefit. Consider some of the benefits for buyers:
Access to comprehensive information with due diligence packets
Buyer determines the purchase price
Knowing the closing and purchasing dates
Knowing the seller is committed to sell
Possibility of getting many offerings at the same time
Receiving fair terms, same as with other buyers
Reducing the negotiation process
Smart investment purchased at fair market value
Auctions are truly a win-win for everyone involved.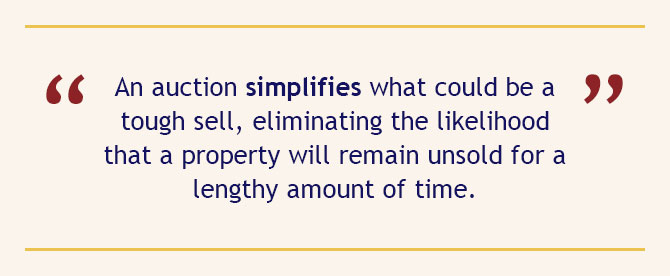 When Are Properties Suited for Auction?
Auctions have often been used to sell distressed properties, but they're also an easy way to sell non-distressed properties. An auction is an ideal choice if the property:
Has equity of 25% or more
Is unique
Has high carrying costs
Is vacant
Is difficult to appraise
Auctions are also useful if a property can benefit from the following:
Additional attention or marketing focus
A competitive bidding process
A definitive timeline
Auctions are also suitable when the seller needs immediate cash, needs to liquidate an estate or is moving out of state. In addition, auctions can be well suited for a seller's market, an emerging market, a dull market or a changing market.
Ways to Market Real Estate With an Auction Company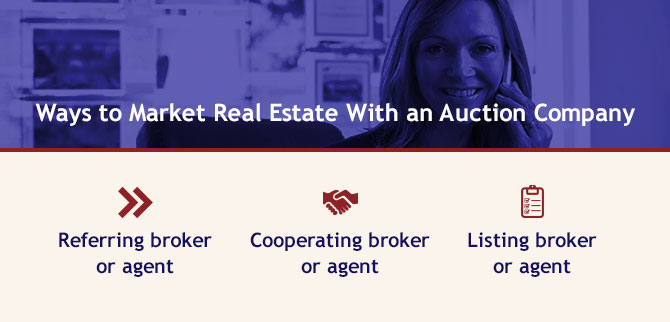 There are a number of ways to earn a commission from an auction sale. Even if you don't have a property to list, you can still benefit from the process by referring business to an auction company:
Referring broker or agent – Referring a seller to an auction company earns a referral fee. If you're having trouble marketing a particular property, a referral fee offers an opportunity to earn something. Referring brokers have the following responsibilities:

Helping the seller analyze the market and their needs to fully assess the auction benefits.
Referring the seller to a professional real estate auction company.
Replacing any sale listing agreement with an auction contract.
Notifying the MLS that the property will be sold at public auction.
Collecting a referral fee from the auction company upon closing.


Cooperating broker or agent – In addition to auction commissions for referrals, a cooperating agent can earn a commission by registering a buyer who purchases a property at auction. Cooperating brokers or agents accompany the bidder to pre-auction events and register the potential buyer. The cooperating broker or agent can be subagents, buyer's agents or dual agents. Responsibilities include the following:

Calling auction companies to be added to their mailing lists.
Attending real estate auctions to see how they work.
Advertising as an agent or broker who understands how to sell property at an auction.
Attending pre-auction open houses, as well as meeting and registering prospective buyers.
Determining the market value of properties prior to auction.
Learning how to earn a commission for registering a successful buyer.
Learning the terms of the auction.
Registering the bidder prior to auction and assist the bidder with auction strategy.
Collecting the commission upon closing.
If the bidder becomes the buyer, the cooperating broker or agent will be the one to accompany the buyer to the contract room as well.
Listing broker or agent – As a listing agent, you'll market the seller's property at auction and also represent the seller throughout the auction and closing. You receive a larger commission for your efforts, although you'll need to share a portion with the auctioneer and other involved parties. A listing agent designation is more appropriate for anyone seeking a more substantial role in the auction process. The relationship between auctioneer and listing agent can be mutually beneficial, even if the listing agent has little experience with auctions. Responsibilities include:

Canceling any sale listing agreement and replace it with an auction contract.
Notifying the MLS that the property will be sold at public auction.
Providing a fact sheet on the property, in addition to local licensing information.
Performing a market analysis.
Completing due diligence.
Securing a sign, photographs and keys for the property.
Securing property maintenance and also supervising property management.
Holding open houses for inspection.
Helping bidders with the pre-qualification process.
Providing progress reports to the seller.
Helping the auctioneer with the bidding process.
Accompanying the buyer to the contract room.
Helping the buyer with post-auction inspections and financing.
Assisting with any pre-closing events and will attend closing.
Collecting the commission check upon closing.
Auctions are basically a full-service shop that can generate a number of revenue opportunities for you and your brokerage firm.
Auction Strategies to Consider
Before auctioning property, it helps to have a clear strategy. Consider the following tips: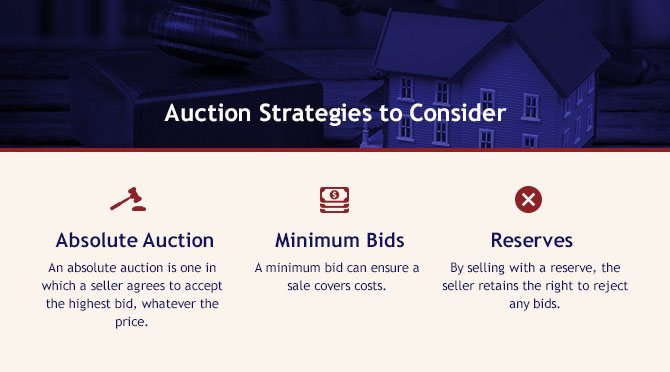 Absolute Auction – An absolute auction is one in which a seller agrees to accept the highest bid, whatever the price. This approach can attract a high number of bidders. However, it may not be the best approach if a minimum is needed to clear costs. A client eager to get rid of a property regardless of the ultimate purchase price may prefer an absolute auction. Reasons to choose an absolute auction include the following:

Property sold to highest bidder
Guaranteed sale
High buyer interest
Maximum market response
More bidding participation
Minimum Bids – A minimum bid can ensure a sale covers costs. It can also prevent buyers from colluding to purchase property at a deflated price. Provided the minimum price is still well below market value, there should still be plenty of interest from potential buyers. If the minimum price is too high, however, it may discourage buyers from bidding. Reasons to choose minimum bids includes the following:

Bids must exceed published minimum price
Reduced risk for sellers
Sellers may limit interest to buyers willing to pay the minimum price
Reserves – By selling with a reserve, the seller retains the right to reject any bids. This is tantamount to having a minimum bid, without having to publish that fact. Using a reserve even allows a seller to bid on their own behalf during the auction. Reason to choose this type of auction include:

Minimum bid not published
Sellers predetermine price
Seller reserves right to accept or reject highest bid within a specified time
It's important to choose the right auction type for a given property. This is why it's a good idea to discuss the above alternatives with auction experts, before incorporating them into your contract.
Auction Process
Before the auction process even begins, buyers will have access to an information packet, usually found online. If anyone is interested in participating in the auction, they will need a certified check for earnest money, which can vary between five and 20 percent.
The auction itself may involve the following:
A facilitator begins proceedings by reviewing the rules. Lenders may be on hand to answer financing questions. A presentation may show images of the property while listing key facts.
An auctioneer begins the bidding process, with potential bidders indicating an interest by lifting a numbered paddle. When only one bidder remains, the auctioneer can announce the sale of the property.
The contract and paperwork can be handled on site. Closing typically occurs within 20 to 45 days of the auction.
Real estate auction firms like Fortna Auctioneers & Marketing Group have the expertise to guide you through the auction process for a quick and successful sale.
Real Estate Brokers Auctioning Property With Fortna Auctioneers & Marketing Group
The success of an auction depends on a well-planned, aggressive marketing campaign targeting likely buyers. This is why it makes a difference using a recognized real estate auction company to ensure the auction process is effective.
Fortna Auctioneers & Marketing Group, the premier residential and commercial real estate auctioneer firm in the nation, can help plan and manage the entire auction process, from planning through closing. Fortna Auctioneers & Marketing Group will develop a personalized ad campaign, locating all potential buyers and bringing them to one location to bid competitively for your property. Our innovative strategies will help get the best price possible.
With a 99% success rate when it comes to closing residential and commercial real estate auctions, Fortna Auctioneers & Marketing Group remains committed to total customer satisfaction.
With Fortna Auctioneers & Marketing Group, you can expect the following benefits for your auction:
Qualified buyers from around the globe ready to close
Aggressive marketing
Customized sales plans
Expert attention
True market-value for your property
Faster closing with no contingencies
Lower transaction cost
Better terms and conditions
Less hassle during the sale process
Fair competition in an open market
Fast closing within 45 days
In addition to a successful auction, you'll also get a free first meeting consultation detailing the auction process from start to finish.
With more than 40 years of marketplace experience, Fortna Auctioneers & Marketing Group can give you the competitive edge you need, whether your property is a luxury home, commercial building, industrial site, condo, business liquidation, hotels, golf course, resorts, undeveloped land, etc. Contact us today.
---